Expedited Services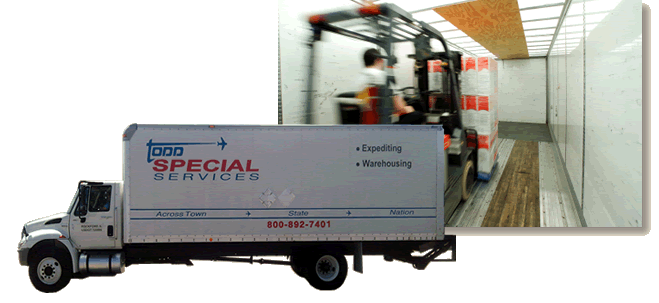 Hard-Working Expedited Service
For the last 38 years, Todd's hard-working expedited service has been available all day, every day. No exceptions. Having an expedited carrier that is there when you need them is essential in today's fast moving economy. Whether you need an emergency shipment of an envelope at 2am or a rush truckload pickup on a national holiday, you need a 24/7 expedited service provider that has a passion for getting the job done. Todd Special Services, Todd Transit's sister company, has the experience in handling hot and time definite shipments that gives our customers peace of mind that the expedited shipment will arrive on time and in a professional manner.
Some of the benefits of working with Todd Special Services include:
Dependable driver delivery with 24/7 availability to 48 states
Asset based with cars, cargo vans, 16' cube trucks, 26' straight trucks and tractor trailers
Lift gates, pallet jacks, 2 wheelers and a 700# stair climber available
Air charter service available
We deliver to airline over the counter, construction job site, trade show deliveries, etc. - just about anywhere you need us to be
Todd vehicles are equipped with e-channel for securing loads with straps and load bars
Contact us today to find out more about our amazing expedited services.